Friends of the Library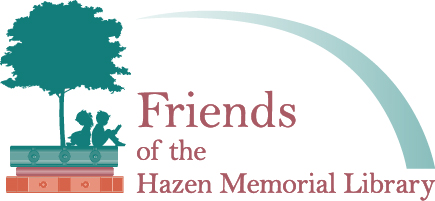 The Friends of the Hazen Memorial Library was formed in 1996 to promote awareness of the Library's services and programs, raise funds for great library programs and passes to area museums.
Have you been thinking about doing something to give back to the community? Are you looking for a volunteer activity that leaves you fulfilled and involves a flexible time commitment? Join the Friends! The Friends raise funds through the annual membership campaign, the Holiday Fair, the book sale in the lobby, and other fundraising events.
Visit the front desk and pick up a Friends membership form, call the library at 978-425-2620, or e-mail us at This email address is being protected from spambots. You need JavaScript enabled to view it. and we will send you a membership application. You can also open and print the membership form here: Click here to open member form.
Friends meetings are usually held once a month at the library from September to June. Check the library's online calendar for dates and times.
Here are some of the programs and events sponsored by the Friends of the Library:
Little Sprouts Preschool Dance & Fitness
Crafts and STEM projects for children and young adults
Jeff Belanger, Haunted Massachusetts Show
Rory Raven, Mentalist and Mind Bender
Pumpernickel Puppet Show
Eyes on Owls show
Creature Teachers
Summer Reading Program
Ted Reinstein, Chronicle
Sisters In Crime author panel
Annual Holiday Fair
Officers 2020:
President:
Vice President: Jessica Myshrall
Secretary: Meredith Marcinkewicz
Treasurer: Sharon Landry