Mother Goose on the Loose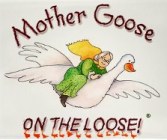 Old Mother Goose,
When she wanted to wander,
Would fly through the air
On her very fine gander.
Mother Goose on the Loose (MGOL) is a thirty minute nursery rhyme program for children from birth to age 2. Some of the benefits of the MGOL program: aids speech development, motor coordination develops attention span, exposure to musical instruments, encourages a love of books and book illustration. Mother Goose on the Loose was developed by Dr. Betsy Diamant-Cohen, combining principles of library programming with Barbara Cass-Beggs' "Listen, Like, Learn" method for teaching music to young children.
Songs and music helps children with rhythm and breaking words into syllables.
MGOL is different from all other baby programs because of its connection with Barbara Cass-Beggs and her "Listen, Like, Learn" method. Cass-Beggs was a Canadian Opera singer and music educator who developed a theory for teaching music to children. She incorporated findings in child development and brain research with methods for teaching music to children. In addition, she wrote many songs which are age appropriate specifically for children from birth to age 2.
Diamant-Cohen studied with Cass-Beggs and incorporated her principles in a library program that emphasized exposing young children to book illustration. After running the MGOL program for 15 years, Diamant-Cohen has been able to adjust the program according to what works best. In addition, more recent scientific findings provide additional support for the value of the program for promoting early literacy and school readiness skills.
Rhyming is one way that children learn to hear that words are made up of smaller parts. This helps them when they later try to sound out words to read.
Each thirty minute session consists of:
Welcoming comments
Opening rhymes and reads
Body rhymes
Drum sequence
Standing-up activities
Animals!
Musical instruments and props
Lullabies
Interactive rhymes
Closing section
Children who are read to 3 times a week or more do much better in later development than children who are read to less than 3 times a week.
Six skills your child needs to learn to read, starting from birth:
Phonological Awareness – is the ability to hear and play with the smaller sounds in words.
Print Motivation – is a child's interest in and enjoyment of books.
Vocabulary – is knowing the names of things.
Print Awareness - is noticing print, knowing how to handle a book, and how we follow the written words on a page.
Letter Knowledge – is learning to name letters and to recognize them everywhere.
Narrative Skills – is the ability to describe things and events and to tell stories.
Come join Miss Kathleen for a half-hour of fun and help your child get ready to read.
Excerpts from Mother Goose on the Loose published in 2005 by Neal Schumann.


The Mother Goose on the Loose program was funded by an Institute of Museum Library Services Grant under the provisions of the Library Services and Technology Act as administered by the Massachusetts Board of Library Commissioners. Hazen Memorial Library received this grant in 2006.
Recommended Reading: {link}Books to Grow On{/link}